His Holiness spends much of the year traveling and acting as a global ambassador for various  humanitarian causes. But he is first and foremost a monk and the spiritual leader of Tibetans. In December 2015 I travelled to India to photograph him during a teaching to a large group of exiled Tibetans who are settled in the rural town of Bylakuppe, in the southern state of Karnataka.
In contrast to talks the Dalai Lama gives in the West which focus on broad themes of peace and compassion, the Bylakuppe teachings were his fifth and final year of scholarly readings and interpretations of an ancient Tibetan text called the Jangchup Lamrin. Tens of thousands of people attended the events, but there were at most, a few hundred Westerners.
It was wonderful to see him in his element, as he chanted, spoke and conducted ceremonies entirely in his native Tibetan over a twelve-day period.  On site, you can purchase a small AM/FM radio which broadcast, in several languages, live translations of the talks. There were times when the Dalai Lama would be in the middle of reciting the ancient text and suddenly burst into laughter….the thousands in the crowd, many of whom had been in deep concentration would then laugh themselves creating a wonderful range of experience for everyone present.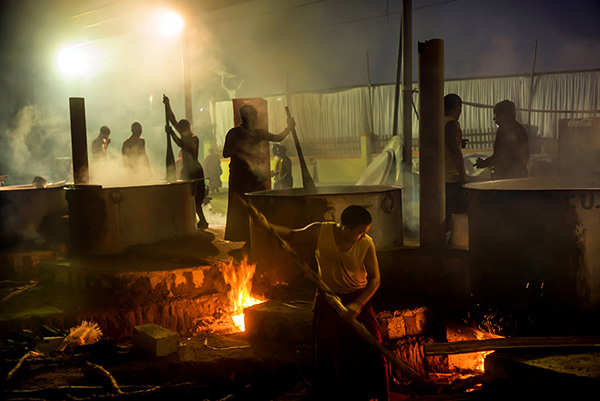 Every day, the crowds would begin to stream into the temple complex before daybreak, so my day started around 5am, when I'd roll out of bed in a room I rented in a private home. I'd furiously kickstart the rented motorcycle I used for my commute, then, wind in my hair, ride through the fog and darkness to the Tashi Lhunpo Monastery.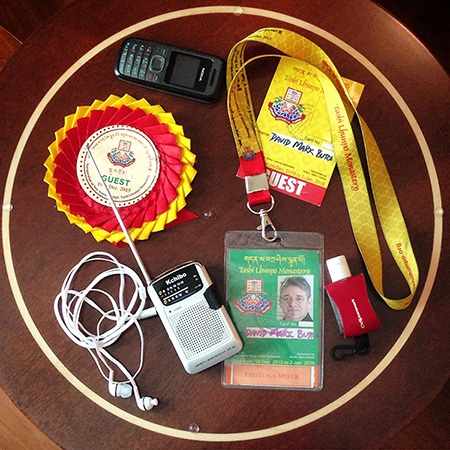 I'd check in on the group of monks tasked with the making enormous quantities of chai that was offered to everyone in the crowd. As the steam rose from giant pots of boiling milk, sugar and tea, I would begin to hear the hypnotic chanting and deep Tibetan throat singing coming from inside the temple.
It was magical.
-David Butow